The Order – Book 1
A clumsy step, the wrong branch to hold on to and a bump on the head to leave her unconscious – no more than that turns Eryn's life upside down when she suddenly finds herself in the capital city as a prisoner of the King. She is determined to keep her magical abilities a secret in a kingdom where, as long as anyone knows, magicians have only ever been male.
However, her aim doesn't work out especially well. The Order – the governing body for magicians – and the King seem to have their own plans with her, none of them caring in the least that she just wants to leave that accursed city behind and return to the peace and quiet of her profession as a healer.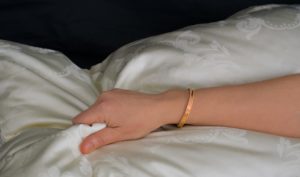 Extra scene with SPOILER ALERT: Erotic scene in Book 1
Commitments – The Order: Book 2
Ram'an has, to Enric's great relief, left Anyueel again to return to his home country – which leaves him to work out the challenge that Eryn still presents to him in more than one area of his life.
Eryn is restless, unnerved by the Order's demands and her own urge to do something useful. It seems an expedition into the woods to teach the herb gatherers in the city how to provide her with acceptable goods is just the thing to pass the time until the new healers' premises are ready for use. Ten peaceful days of collecting plants, far away from the city – or at least that's the plan.
Schemes – The Order: Book 3
After Eryn and Enric leave Takhan, they make a discovery that has a huge impact on their relationship – a change Eryn doesn't approve of while Enric is thrilled.
Life could be busy yet peaceful if it weren't for the guests from Takhan who turn out to be rather troublesome in more than one way. And then there is the King, who obviously doesn't want to be outdone by the new Ambassador and the healer from Takhan when it comes to causing tensions.
Rifts – The Order: Book 4
Right after her arrival in Takhan, Eryn has to face a shocking revelation. Then there is the simmering tension in her relationship with Ram'an, as well as the wearisome preparations for the final healer exam with Sarol, a man who considers mediocre performance a personal insult.
While Enric is getting to grips with his role as Head of House Aren and senator and Vern seems to have found in Takhan his ideal home, Eryn is still fighting to cope somehow with her anger.
Family Bonds – The Order: Book 5
In addition to leading House Aren and Eryn's own project in Takhan she also has to care for the new family addition – and all this while her companion is absent, gone up north to free Malriel from the claws of a foreign jurisdiction.
Enric is not only suffering from nightmares which are not his own but also under the third level commitment bond that turns his separation from his family into an even greater ordeal. He is determined to take care of the matter in Pirinkar as swiftly as possible and finally be able to return to his partner. And to his son, who was born somewhat sooner than expected.
Royal Straits – The Order: Book 6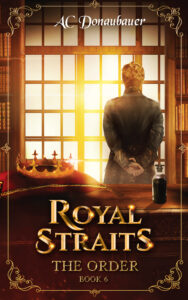 Five years have passed since Eryn and Enric became parents; travelling between two countries on a regular basis as imposed upon them by Eryn's brother Vran'el has become part of their everyday lives. Vern returns from Takhan after completing his training as a healer there, facing the challenge or readapting to a home, which has become a decidedly abnormal place for him.
While Eryn and Enric are struggling catch up with everything that happened during their absence from Anyueel, King Folrin finally decides to take a companion to fulfil his duty of providing an heir to his throne. He has, however, no intention of taking the difficult task of seeking a suitable candidate entirely upon himself. So Eryn and Enric are granted the non-too-greatly appreciated honour of assisting their sovereign in his endeavour.
Difficult Neighbours – The Order: Book 7
Travelling up north to Pirinkar in order to find out who is behind the attempt on the Queen's life, Eryn and Enric face the challenge of adapting to a culture hostile to magicians. What's more they have no allies apart from Ambassador Erbál, and even worse they always need to keep in mind that it's not safe to trust anyone, be they priests, noble families or government.
The only one willing to assist them is a person they would much rather keep their distance from. Yet time is running out, and rejecting help becomes a luxury they cannot afford for long. Not if they still want to avoid the war someone seems to be secretly plotting.
Crossing Swords – The Order: Book 8
The war with Pirinkar seems almost unstoppable, and the Order faces its first test after 3 centuries of peace. The promise to stand by the Western Territories against its northern neighbour will show whether the secluded efforts to maintain military prowess can actually stand up to reality. Although the enemy has little in the way of magical attack capabilities, their technological advances pose a threat that should not be underestimated.
Eryn, meanwhile, wrestles with whether she is capable of destroying lives in a confrontation and thus betraying everything she has been trained to do. And Enric, whose loyalty has never been so severely tested as by the prospect of having to lead his companion into a war, is also struggling with his demons.